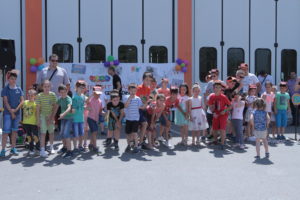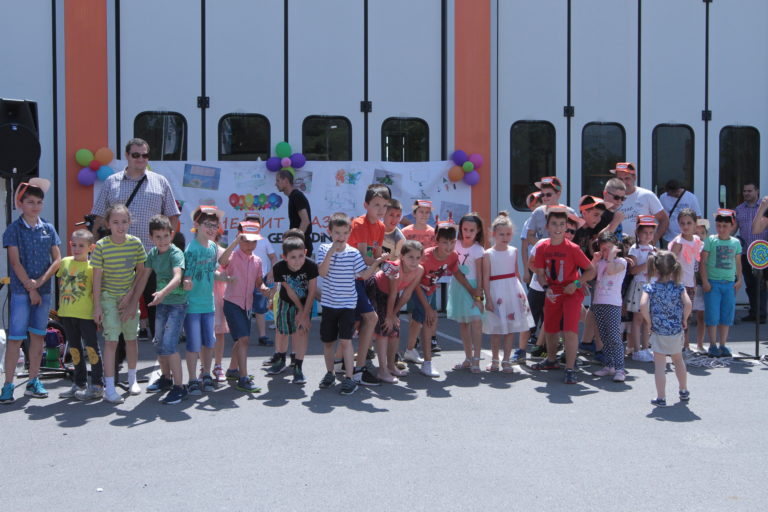 The kids of GEOTECHMIN group's employees became adventurers on the 'Machine Island'—a celebration of Children's Day, June 1, organised by Geotrading AD. This was a prize for all the kids who took part in the creative competition. Once again this year, with their drawings, machine models, poems, stories and songs, the children showed their enormous talent and boundless imagination on two topics—'If I Were a Wizard' and 'Machines of the Future'.
To explore the 'Machine Island', the kids were divided into three teams they themselves named: 'GeoTigers', 'The Awesome Machines' and 'The Blues'. For the youngest kids, it was all fun on the trampoline and with the games in the playground made especially for them. The teams had to go through four areas of fun and learning—'Safe at Work', 'Machine Shop', 'Art Helmets' and 'Transformers Disco'. There was fun and dancing at each area and the children learned new things about the machines and work safety rules. The kids had their 'passports' stamped at each area and, with a map of the island, the ultimate goal of each team was to find the treasure chest full of candy. The treasure was well hidden inside the LiuGong 856 front loader, but the children did great and found it like real explorers. The kids were very excited about all the vehicles at Geotrading AD's ProAuto service centre in Sofia.
Before the most anticipated part of the celebration—the award ceremony for the winners of the competition—exactly at 12 p.m., the children and their parents stood for a minute of silence to honour the Botev Day and those fallen for the liberation of Bulgaria.
The kids could hardly wait to hear the names of the winners. They were personally chosen by the executive director of Geotrading AD, Mr Ivan Vutov. All children received special presents from Geotrading AD for their participation in the competition.
Source: Geotrading