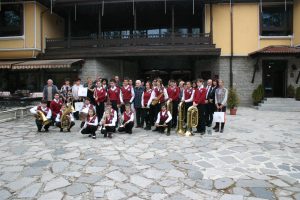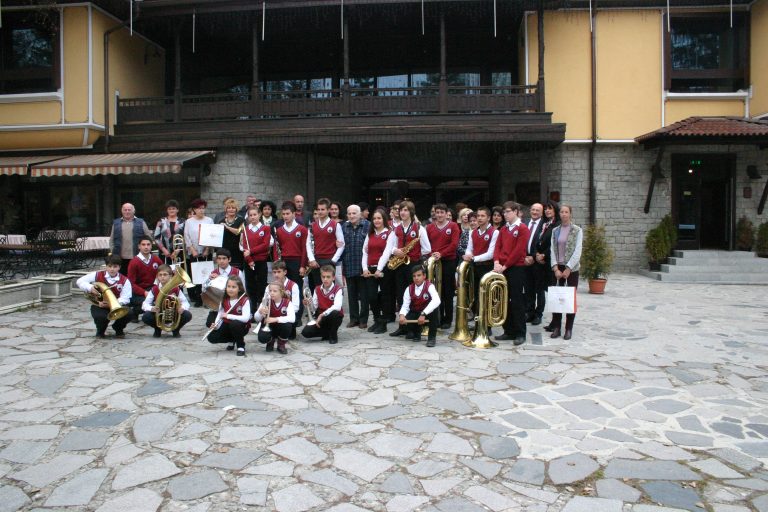 For the sixth year in a row Geotechmin and Ellatzite- Med organized cultural events within the corporate social responsibility programme Culture and National Identity. Representatives of local authorities, school headmasters, librarians, teachers, and local media, led by the desire to preserve historical memory and national self- confidence, gathered in 20th April Trade Complex in the town of Koprivshtitsa on 7 November and in Etropolia Complex in the town of Etropole on 9 November.
On the occasion of the National Enlighteners' Day, Geotechmin and Ellatzite-Med donated books to 14 schools and 16 library clubs in Srednogorie region and Etropole municipality. Representatives of seven partner schools within the region of Srednogorie and Etropole where Ellatzite-Med operates a concession participated in Treasures from the Past the Life and Work of People in My Homeland Contest and received a specially made gift book. It reveals the talent and genuine emotions through which the contest winners- students from grade 1st to 7th– have recreated important family events and traditions. The students were awarded in May.
The guests of the cultural events in 20th April Trade Complex and in Etropolia Complex enjoyed a short film about the contest, which is on the dedicated to the contest webpage:
 http://www.kulturainatzionalnaidentichnost.bg/konkurs-2017
The event in Koprivshtitsa was attended by the Mayor of Koprivshtitsa Gencho Gerdanov, the Mayor of Zlatitsa Magdalena Ivanova, the Mayor of Pirdop Angel Gerov, the Deputy Mayor of Pirdop Vera Boytcheva, and the Mayor of the village of Dushantsi Valentin Petrov. Ellatzite-Med was presented by Mrs Keti Kirova – Financial Director and Member of the Management Board, Mrs Simona Sabkova – Human Resources Director, and representatives of Geotechmin. Students from the brass band at Luben Karavelov High School in Koprivshtitsa performed a short concert during the event.
Special guests of the event in Etropole were the Deputy Mayor of Etropole Rositsa Hristova, the Director of the Historical Museum Natalia Tsvetkova, the Chairman of Todor Peev-1871 Library Club Hristo Andreev, as well as the headmasters of the partner schools Mrs Mila Mancheva, Mrs Desislava Naydenova and Mr Ivan Ivanov. 
The event in Etropole finished with a recital of the series of poems "Avens", composed and recited by children from Hristo Yasenov Literary Club. Furthermore, the folklore ensemble "Balkan Youth" played beautiful dances and entertained the public.
The "Culture and National Identity" programme of Geotechmin and Ellatzite-Med was created in 2012 as a donation campaign in the field of art and literature. For the past three years there has been a regional students contest, connected with history, the heroic beginning and the customs of each student's home place. That way the students are presented with the opportunity to express their talents on a specific topic. In 2015 – My Homeland through My Eyes, in 2016 – A Dream of Freedom, and this year the topic was Treasures from the Past – the Life and Work of People in My Homeland.
Source: Ellatzite-Med