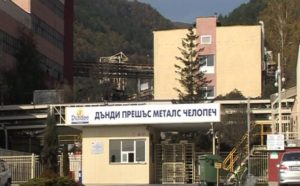 The winners of the 2016 Mining Magazine Awards were announced on January 27th, 2017. The Awards celebrate innovation and commitment to advancing the face of mining, not just technologically but also sustainably and in an environmentally respectful manner. The competition invites the readers of the magazine to nominate the best mines, teams and projects at the end of the year and a panel of reputed professionals in various fields select the winners at the start of the next year.    
The team of Dundee Precious Metals Chelopech captured the Technology Award. Competing with large technological companies, the project for extraction of the crown pillar in Block-150 in Chelopech Mine was highly appreciated because of its industry non-standard and innovative approach ensuring excellent recovery at maximum safety.
The recognition of the team's effort comes as a result of the successful introduction and implementation of one of the best mining methods. Investment in learning, continuous improvement, professionalism, and the strong connection with research and academic experience have taken the Chelopech Mine professionals to the lead in the global mining industry.
The award is important for the mining industry in Bulgaria as there are few similar examples in the world, and for the development of the young mining professionals, who have the opportunity to learn and gain experience with practice.
"When in 2004 Dundee Precious Metals Chelopech's team took to changing the mining method from the historical Sublevel Caving (SLC) used in the previous 50 years or so to long-hole stoping with fill (LHSF), hardly anybody working in the Chelopech coper-gold mine realized how fast an old and conventional Bulgarian mining operation will be transformed. That marked the beginning of an extensive upgrade process, which took the lid off the mine and made digital mining the topic of the day. People with their skills, experience and professionalism led all the way from the concept to the implementation. That played the decisive role in the implementation of another, very challenging project – mining the crown pillar," proudly said Mr. Ilia Garkov, PhD, DPM's General Manager for Bulgaria.
Source: Dundee Precious Metals