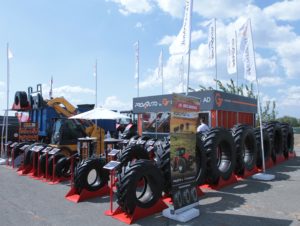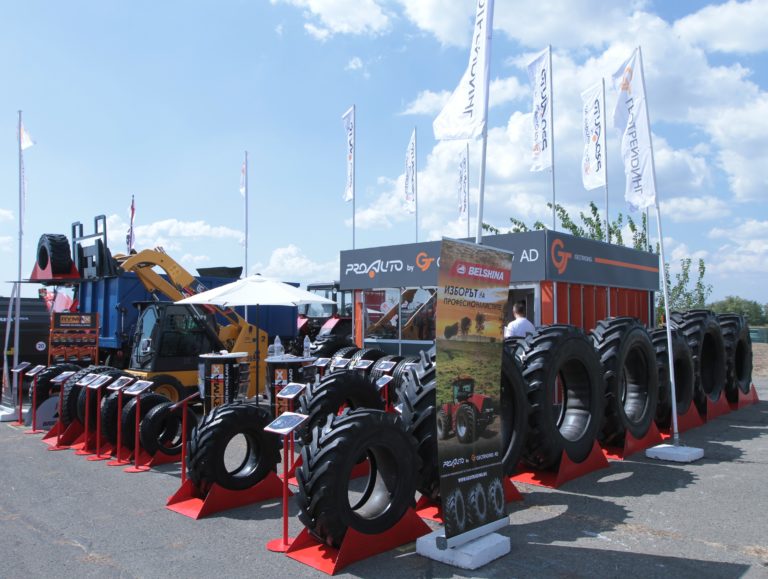 The Belshina brand offers 70 tire models of various sizes and purposes, designed specifically for the agricultural sector. Geotrading AD is the exclusive representative of the Belarus brand for Bulgaria and Greece, and a dealer for Macedonia, Turkey and Albania.
"Again, we are ready to meet all our clients' requirements for the upcoming agricultural season. Our Belshina partners, as usual, maintain top quality and keep expanding their production capacity," Geotrading AD officials said.
In early February this year, the brand's Bulgarian representative was enjoying great customer interest at a major agricultural show in Thessaloniki. There, Geotrading AD professionals showcased seven new Belshina agricultural tire models. They included three rear and two front tire types as well as one multipurpose and one harvester type.
The Belarus brand range includes tires for all agricultural equipment types – tractors, manure spreaders, forestry vehicles, cultivating tractors, harvesters, threshers, trailers, tanker-trailers, corn reapers, generator sets and others. Belshina has the models, often used by the top agricultural equipment manufacturers for all kinds of applications. They are intended for driving and carrying wheels as well as for all-purpose applications.
The main advantage of the Belarus Belshina tires are their competitive prices, combined with quality on par with the top global brands. Bucking the global trend of tire price increases, the Belarus manufacturer manages to keep its product price levels stable. This is why they remain stable on the Bulgarian market as well.
The tires are manufactured and tested at the Belshina OAO plants in Belarus. They have all testing certificates for the European market. This guarantees their high quality and exceptional performance. The manufacturer and Geotrading AD, respectively, as a representative, offer 1 year warranty for tread wear and up to 5 years for manufacturing defects.
The Belshina agricultural tires have sizes up to 42 inches. Many of them are radial, for better durability. The tread design of the newer Belshina tire models allows their use on both hard and soft surfaces, and also ensures excellent cleaning.
The Belshina brand for the agricultural sector shows good load index values—up to 173, meaning that the tire with the maximum capacity can carry up to six and a half tonnes. Some of them are reinforced with more rubber, which also increases their durability, guarantees their excellent stability and protection against external damage. Such tires are, for instance, the 800/65R32 for harvesters and the 710/70R42 for tractors.
The Belshina brand sells more than 300 different tire types in more than 70 countries worldwide. In addition to the agriculture, Belshina manufactures tires of similar quality for trucks, dumpers, road construction vehicles, buses and passenger cars.
Geotrading AD represents some other brands with agricultural applications as well, such as the Rymax lubricants and the SF-Filter filters. Belshina tires and all other Geotrading AD products are available at the ProAuto service centres in Sofia and Etropole.
Source: Geotrading