Association Srednogorie Industrial Cluster was established in the autumn of 2005. The Cluster is formed on an  industry-regional basis. Leading companies in its  initiation were Assarel – Medet, Aurubis Bulgaria, Ellatzite – Med, Dundee Precious Metals Chelopech and Geotechmin.
The cluster members are: Assarel–Medet, Aurubis Bulgaria, Ellatzite–Med, Dundee Precious Metals Chelopech, Geotechmin, Air Liquide Bulgaria, Eurotest–Control, Energeo, Optix Co, Opticoelectron Group, Centre for Management and Vocational Training, Geostroy, Siemens Bulgaria, Geotrading, Argus, MP-Metalplast, Oloplast Group, CMC-C, GeoSolve, Ipsilon- Ivan Ivanov, Paradox, Retel, Simplex – Rabadjiyska & Co, Sofia University "St. Kliment Ohridski" ,University of mining and geology "St.IvanRilski", Technical university – Sofia, University of Forestry (UF) – Sofia, University of Chemical Technology and Metallurgy (UCTM), Municipality of Anton, Municipality of Chelopech, Municipality of Chavdar, Municipality of Panagyurishte, Municipality of Pirdop, Municipality of Mirkovo, Municipality of Strelcha, Municipality of Zlatica, Municipality of Koprivshtitsa and Municipality of Etropole.
Mission
Prosperity of the human capital and the economy of Srednogorie region through partnership of all stakeholders.
Structure
The Enterprises in the cluster make  a network of their competences and potential and together create products and solutions that are flexible  and quickly meet the needs of international markets. The unification of companies fascilitates the communication, provides cheaper access to raw materials and energy, aids the introduction of  more scientific and applied research, creates training and educational centers. Following this philosophy, ICS develops a model of classical pyramid cluster group of interconnected, export-oriented industrial companies.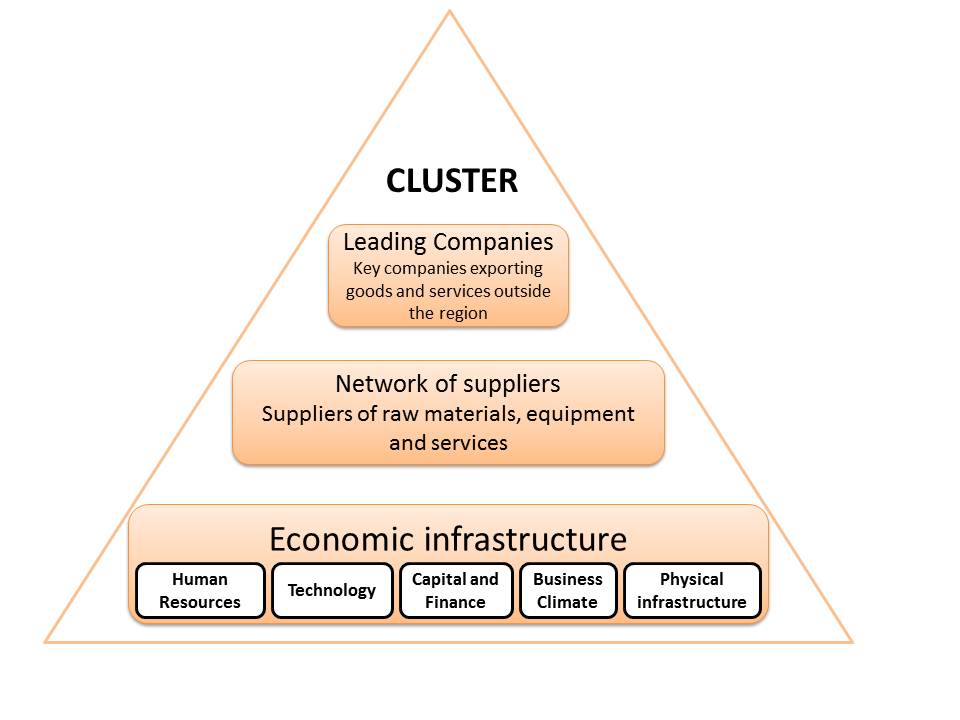 Goals
  Increase of the competitiveness of the industry in Central Srednogorie
  Sustainable development and environmental protection in accordance with national and regional priorities
  Improvement of technical and social infrastructure in the region
  Growth of  the quality and standard of living
  Technological innovation and implementation  of innovations
  Improvement of energy efficiency
  Improvement  of the working conditions in the enterprises participating in the cluster network
  Improvement of the system for enhancing the education and training of the stuff for the needs of the cluster network
  Implementation of other projects of mutual interest
Challenges
  Support of industrial policy and development
  Improvement of energy efficiency
  Recruitment and deployment of new technologies
  Health and safety
  Environmental Protection and Water
  Development of regional infrastructure
  Improvement and development of public services
  Development of a public-private partnership
  Attracting new investment in the region